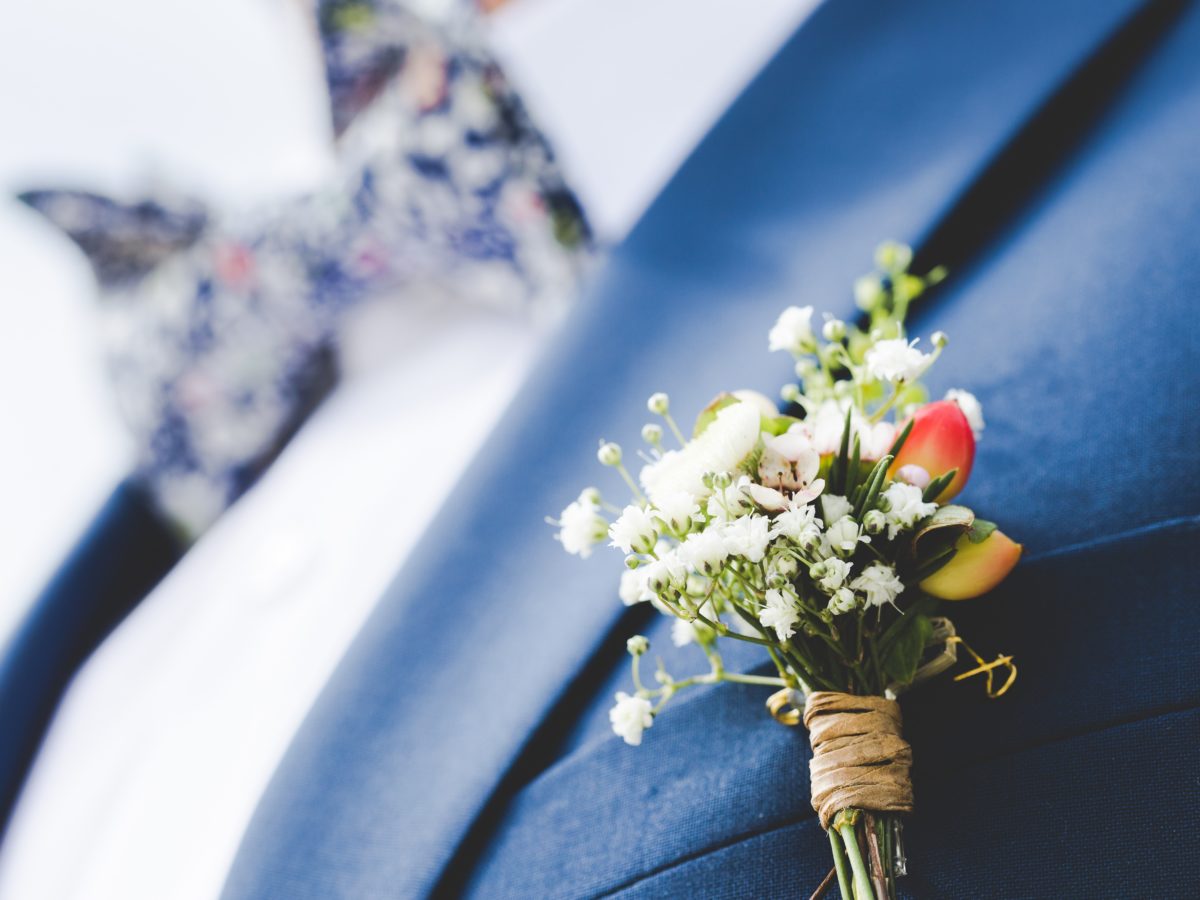 Strój Pana Młodego- tkaniny, kolory i faktury
Czas na drugą część wpisu dotyczącego stylizacji Pana Młodego- w tym poście opowiem o rodzajach tkanin oraz modnych kolorach i wzorach. Kto nie widział części dotyczącej budowy i doboru odpowiednich proporcji garnituru odsyłam do linku /stylizacja-pana-mlodego/.
Tkanina
Równie ważnym elementem budującym wizerunek Pana Młodego jest rodzaj tkaniny z jakiej uszyte jest ubranie ślubne. Rekomendowanym przeze mnie rozwiązaniem jest wybór garnituru wykonanego z wełny oraz domieszki włókna sztucznego. Proporcje powinny wynosić 90%- 80% tworzywa naturalnego i 10%-20% poliestru. Taka domieszka zapewni wysoki komfort noszenia, będzie zapobiegać zagnieceniom materiału oraz sprawi, że tkanina będzie odporna na uszkodzenia mechaniczne. Kolejną interesującą opcją jest garnitur z domieszką jedwabiu (ok. 2%). Tkanina ta nada ubraniu delikatny połysk i cała stylizacja nabierze bardziej wzniosłego i ceremonialnego charakteru. Podszewka natomiast powinna być wykonana z wiskozy, bądź jej mieszanki z poliestrem. Pierwszy z wymienionych materiałów jest higroskopijny (pochłania wilgoć), co zapewnia skórze stały dopływ powietrza, dzięki temu sprawdzi się nawet w upalne dni. Dodatkowo nie powoduje podrażnień i jest przyjazny dla skóry.
Strój Pana Młodego- tkaniny, kolory i faktury
Drugim istotnym czynnikiem budującym stylizację weselną jest kolor garnituru. Najczęściej wybieranym odcieniem jest granat. To barwa bardzo twarzowa, pasująca praktycznie do każdego typu męskiej urody. Każdy inny, kontrastowy odcień będzie dobrze się z nim komponował. Czy wybierzecie dodatki w pastelowym różu, bądź krwistą czerwień pasującą do butów Panny Młodej granat zda tutaj egzamin stylistyczny 😉 . Decydując się na ten kolor wyróżniamy odcienie jasne wpadające w tony niebieskie, aż po bardzo ciemne przechodzące prawie w czerń. Te pierwsze cieszą się dużą popularnością przede wszystkim w sezonie letnim i do niego najbardziej pasują, natomiast tonacje ciemniejsze wybierane są niezależnie od panującej pory roku.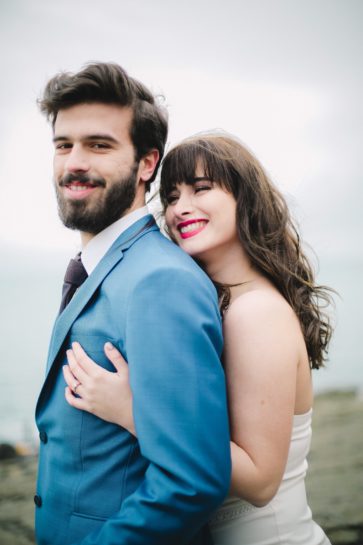 Dodatkowym atutem granatu jest jego uniwersalność. Można wykorzystać go na innych uroczystościach tj. w charakterze gościa weselnego, czy komponując stylizację smart casualową.
Są również tacy Panowie, którzy chcąc wyróżnić się na własnej ceremonii zaślubin wybierają czerń. To także doskonały wybór. To kolor, który zarezerwowany jest właśnie na bardzo ceremonialne, wysokiej rangi uroczystości. Jeżeli odcień ten pojawia się na weselu, to powinien tylko w stylizacji Pana Młodego.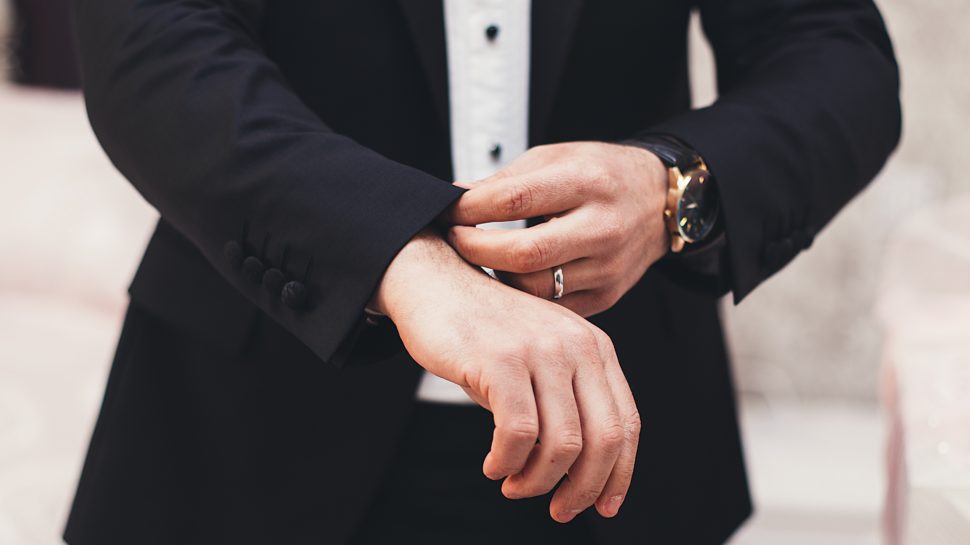 Jeżeli chodzi natomiast o barwy szare i grafitowe są one na tą chwilę mniej popularne wśród stylizacji ślubnych. Jasne odcienie tych kolorów dobrze będą prezentować się na ceremoniach odbywających się w plenerze lub na weselach inspirowanych stylem botanicznym, czy rustykalnym (jeżeli chcecie poczytać o panujących trendach ślubnych odsyłam do wpisu /trendy-slubne-2018-2/ ).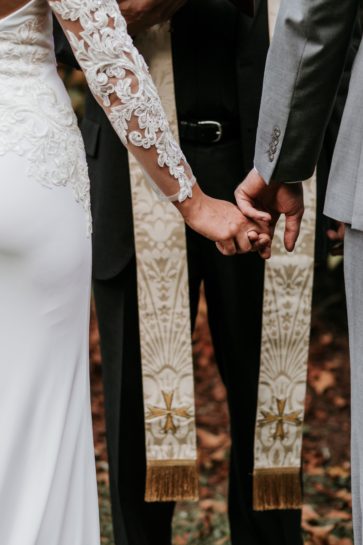 Jeżeli chodzi o wzory pojawiające się na garniturze od jakiegoś czasu można zauważyć trend kraty. Ta mocno rysowana i z widocznym akcentem kolorystycznym dodaje stylizacji charakteru i indywidualności. Dla osób z mniejszą odwagą polecam kratki drobniejsze w tonacji mniej wyróżniającej się na całej fakturze materiału. Godne uwagi są także propozycje, w których tkanina garnituru ma charakter dwutonowy. W zależności od tego jak pada światło materiał posiada dwa przeplatające się odcienie.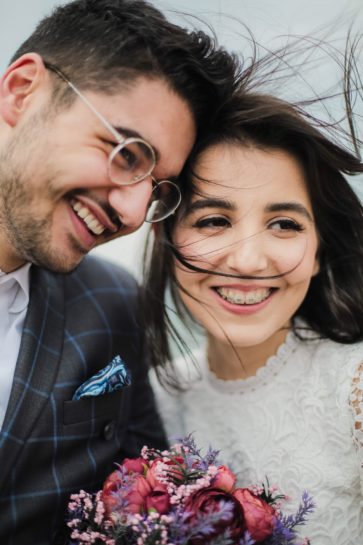 Mając już tak sporą wiedzę na temat samej anatomii garnituru, możemy przejść do dodatków, które nadają stylizacji indywidualności i podkreślają jej ceremonialny charakter…
Ale o tym napiszę następnym razem 😉 .